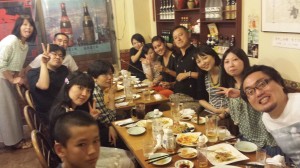 Yesterday was my last day of my internship at G-try! I spent 9 amazing weeks with these people! Everyday I woke up happy to go to the office, because I knew that no matter what, it was going to be a good day and continue to learn new things . I still remember the first day we met like it was yesterday. I was worried that I wasn't going to be able to make it mainly because of language barrier. But  at the end it has been an incredibly rewarding experience more than I could have ever imagine.
I will always be grateful to G-Try to have open wide their doors and gave me  this opportunity to see the inside of a Japanese company. G-Try is definitely a one of a kind company, its uniqueness makes its strength. They all have done so much more than just welcoming me as a simple intern. From the start they made me feel like I was a part  of their team.
I have experienced the beauty of the Japanese hospitality, Omotenashi. <3
It's now the end of a great experience, like it's commonly said "every beautiful things have an end" but rather than that I would say that it's the begining of a new start.
From the bottom of my heart THANK YOU to G-TRY and to all of you who have been reading my posts.